If you're thinking about going to cosmetology school, there's no better place than New York City.
But choosing the school that's right for you is a real challenge. We've compiled a list of the best cosmetology schools in NYC to get you started.
We rated each school out of 10 possible points so you can compare them. Read on to learn about the strengths and weaknesses of each school, the programs they have, and even how much they cost.
Find the perfect fit, and you'll be ready for success!
1. The American Beauty Institute 5/10
Strengths: With only 20 students per class, the American Beauty Institute is a great place to get the individual attention you need for success. You'll get lots of hands-on experience and classes that build your practical skills. It's also very affordable.
Weaknesses: The school is smaller, so their focus is more on core competencies rather than the latest trends.
Program and Tuition: Specialize in hairdressing, esthetics, nail care, or waxing. The school is in Midtown Manhattan, and tuition varies depending on your program. Their payment program makes it possible for anyone to afford their tuition.
Bottom Line: If you're new to the industry or want to specialize in a particular area, this is the school for you. If finances are an issue, this is a good option.
2. The Salon Professional Academy 7/10
Strengths: The unique curriculum at the Salon Professional Academy provides next-level learning with a focus on business management and guest services. You're getting fantastic training for the price, and the 12:1 student-teacher ratio is hard to beat.
Weaknesses: There are no part-time options for cosmetology or esthetics and skin care. You have to work your schedule around school hours.
Program and Tuition: Specialize in general cosmetology, esthetics, and skin care, or nail technology and manicure. Tuition is 11,600, an excellent price for a high-quality program. The location in Buffalo isn't as glamorous as some of the other schools on this list, but housing is more affordable.
Bottom Line: Best value. An excellent education at a great price.
3. Hair Design Institute at Fifth Avenue  7/10
Strengths: The thing that sets the Hair Design Institute apart from the competition is its career placement services. After you graduate from the program, the teachers and staff help you to make the connections that lead to employment. Participate in special events and get individual instruction to create a great resumé and portfolio.
Weaknesses: If you want to specialize in something other than general cosmetology, this program is not for you.
Program and Tuition: This school has been in business for over 65 years. Tuition is $12,200, and you can go to school part-time, full-time, and on nights and weekends.
Bottom Line: This is an all-around great school at a good price. If you're worried about finding a job after you graduate, they offer the best transition program. Don't forget to bring your best hair scissors!
4. Make Up Forever Academy 8/10
Strengths: If you want to become a make-up artist, this is the top school in New York. There are a variety of ways to learn, from intensive 8-week courses to 6-month master programs. All of their instructors are practicing make-up artists, so they're familiar with the latest trends.
The program is exclusive, so attending this school looks great when you're applying for jobs.
Weaknesses: This school is unique to make-up artistry, so if you want a balanced cosmetology program, this isn't it. Also, expect to incur more costs than the estimated tuition to buy supplies.
Programs and Tuition: The 6-month Master Program goes in-depth, so you can break into the professional make-up industry. Beauty and Fashion, TV and Film, and Stage and Artistic techniques are all covered in detail.
At $17,000, this program isn't cheap. If you just want to get your feet wet and see if this industry is right for you, their Beginner course is just one week and only $1,500.
Bottom Line: Make Up Forever Academy has the best make-up education New York has to offer. Their variety of programs lets you choose what's best for you, but it can get expensive.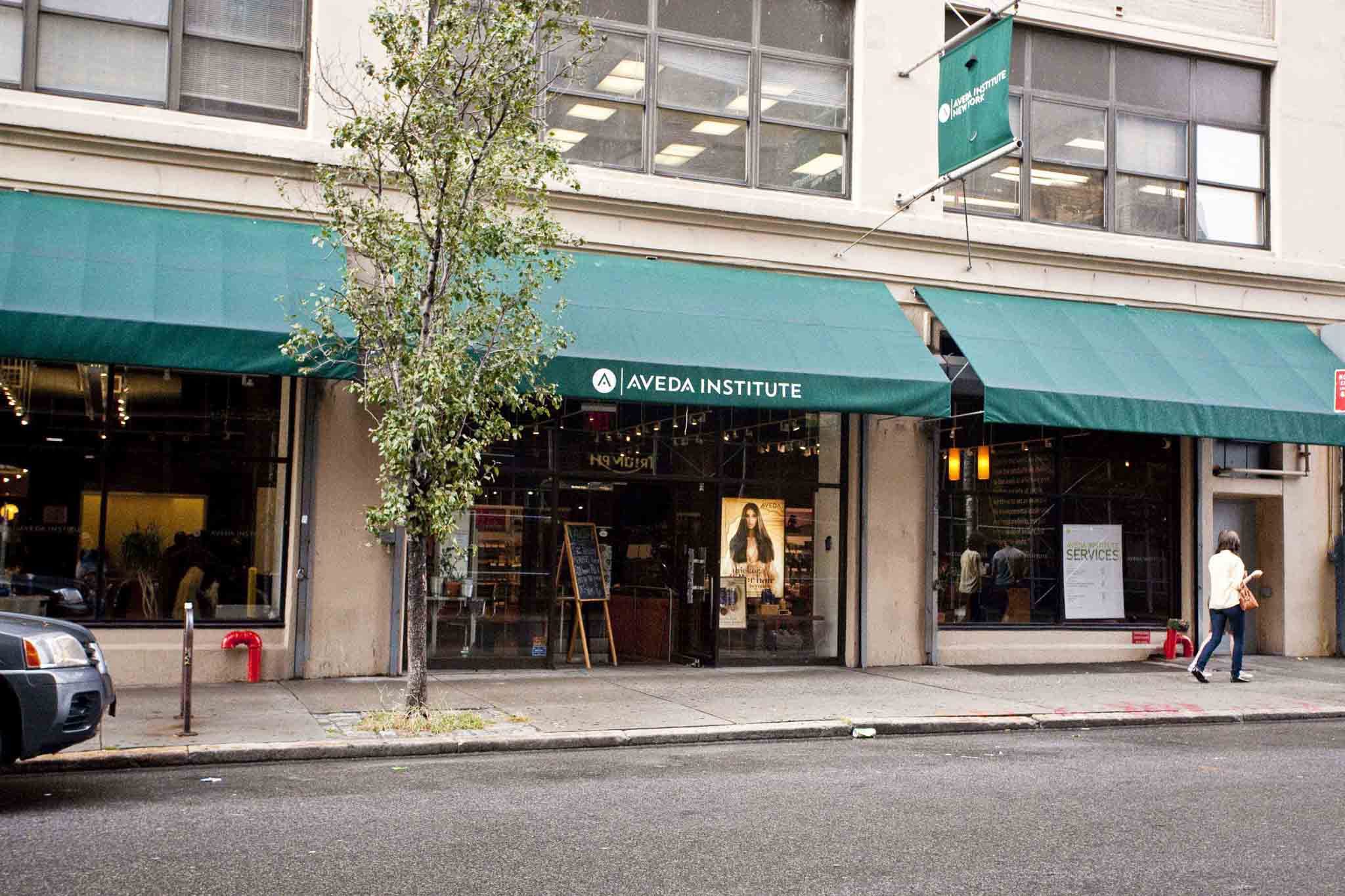 5. Aveda Institute New York 8/10
Strengths: For earth-conscious cosmetology students, there's no better school than the Aveda Institute. Known worldwide for their professionalism and quality products, you'll give yourself an edge with this education.
Their state-of-the-art facility in SoHo is a fantastic place to learn.
Weaknesses: Tuition is very high, and finding a place to live affordably in trendy SoHo is hard.
Program and Tuition: Tuition is over $20,000 if you specialize in Cosmetology. Choose Esthetics instead for around $10,000.
Bottom Line: A fantastic school, but quite expensive. You'll get to participate in lots of amazing events and learn a more holistic approach to cosmetology.
6. Carsten Institute of Cosmetology 10/10
Strengths: This highly acclaimed school of cosmetology teaches the French haircutting technique. Learn to avoid fatigue and create the perfect style for any client. Stay on the cutting edge with the on-trend instruction you receive at this school.
With a 94% graduation rate, you're very likely to complete the program.
Weaknesses: You get what you pay for, and this institute costs more than many other programs in NYC.
Programs and Tuition: Total cost for the program is $17,700. Specialize in Cosmetology, Esthetics, Instructor Training, or Beauty Make-up Fundamentals. The program's location on Madison Avenue is a great place to learn!
Bottom Line: Top notch education, an incredible graduation rate, and the opportunity to specialize set this school apart, but the tuition is high.
7. Arrojo Cosmetology School 10/10
Strengths: Widely known as the best cosmetology school in NYC, this is an excellent choice. The instructors are industry experts and are extremely knowledgeable about the latest trends. With a graduation rate of almost 92%, they are truly committed to ensuring the success of every student.
Their state-of-the-art facility is in lower Manhattan's fashion and style center. Guest speakers and master stylists enhance the program.
Weaknesses: This program focuses on general cosmetology, so you'll just get the basics of make-up, nail, and skin care.
Program and Tuition Information: Courses in hair cutting, coloring, chemical restructuring, and styling form the backbone of this program. You can tailor the program to your career goals. Current tuition rates are $14,700.
Bottom Line: If you're thinking of owning your own business, this is the school for you! Tuition rates are reasonable.
Visit our homepage to learn more about cosmetology schools and what to expect.